As we pull the sections off of our paper countdown chain each day, I really that we are VERY CLOSE to our Disney trip! We leave on the 21st! I'm so anxious because I'll get to help in the TOS booth at the FPEA convention, visit Disney World and my dear friend Mickey for a few days, and hook up with some of my favorite people in the whole wide world!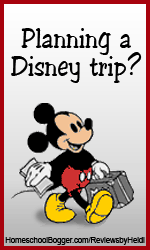 Anyway, as we prepare for our trip and are starting to think about packing, I'm wondering ---
WHAT IS ON YOUR PACKING LIST?
Is there something special that you always remember to pack when going on a Disney vacation?
Or, if you've never visited Disney, but have a family-friendly packing idea that is a MUST KNOW, please share with the rest of us.
ANY and ALL packing advice and ideas are welcome this week!
Remember, you can link up either here at Reviews & Reflections, or over at Becky's There is Hope blog.