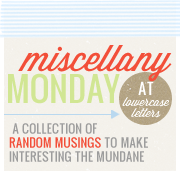 It's a new year, but I have no doubt that my life will continue to be filled with lots of miscellany.  I guess that's what makes things interesting, right?
(one) The Bible in 90 Days has started again!  I'm excited to be participating again – this time not only reading through my Bible, but also serving as a mentor.  What a honor!  I'm looking forward to  getting to know my team better and walking beside them as many of them read through their Bibles for the first time. 
(two) I have one guy on my team for B90.  He said something that made me think . . . how sad it is that the great majority of those participating in B90 are women?  I really think our American culture has demasculinized men (gee, I guess I made up that word!)  It would be wonderful if we could somehow "market" B90 to more men for the next time around.
(three)  Ashley is also serving as a mentor for this session of B90.  I'm so proud of her because this will be her THIRD time through the Bible.  Again, I'd love to see more teens/young people step up to the plate and make the commitment to read along for B90.  Maybe next session?
(four)  One of my goals for this year is to lose (again) the weight that I had gained since Sue got sick.  Why, oh why, am I a stress-eater?!  I rather envy those people who don't eat when they are stressed!  Just sayin' . . . Anyway, Ashley and I are trying to make smart eating choices and get a little bit of exercise throughout the week as well.  Hopefully we'll see some results in the not-too-distant future.
(five) I say this every year, when a new year rolls around, but this year I am going to be much more specific about my work hours.  I'm a perfectionist and an overachiever – but I hate that my family suffers because I'm working all the time.  So, that is going to change! 
(six)  I love after-Christmas sales!  So, yesterday after church, we went out for lunch (LOVE Garfield's) and then went to Wal-mart to exchange some jeans for Brian.  I found shirts for Gracie and Ian (for under $1.25 each), a set of 12 Christmas ornaments for $1.25 – and, thanks to my nosiness and looking in other peoples' carts – awesome looking dog biscuits for $1.25 a  box (we got 3).  LOL 
(seven) Oh, and we got dog beds for the dogs.  I had found one at Wal-mart several months ago for $5, but Lizzie thought it was a pee pad and not a bed.  There were 2 red ones just like it on an end rack.  I figured they'd be $5 and if we could teach the dogs to lay on them instead of the furniture, maybe it would save the never-ending sweeping.  Turns out, they were 75% off.  LOL  $1.25 for a dog bed?!  Funny thing is, we only needed one.  See?  Silly girls! 
(eight)  We bought a new vacuum.  I was so sick of my old Electrolux not picking up the dog hair.  I was ready to chuck the dogs!  Anyway, I'm not entirely convinced that I like this new one either, but I am on a bit of a cleaning frenzy – testing it out.  So, that is good!  Boy, Sue would be so proud of me!