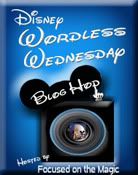 In my "B" post for Destination Disney this past week, I shared a picture of my bored children, waiting in line to meet Woody and Jessie. I thought it might be fun to follow up today with the result of all that waiting in the hot, Florida sun . . .

Ian & Jessie really hit it off!

I think it was even worth the wait for Gracie!
Deb, our Disney Wordless Wednesday host, has an awesome picture to share today – so you'll definitely want to hop over and check that out!