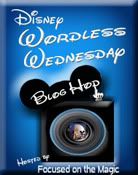 We just got our Disney Photopass CD in the mail yesterday, so we're just a little bit excited! I realized that, on our trip last year without the Photopass, we ended up with NO family pictures whatsoever. This year, we did manage to get one decent one using the timer feature on my camera (see my magazine cover post). But the Photopass ones are always more fun!
To see more Disney Wordless (or somewhat wordless) posts,
click the button at the top of this post.