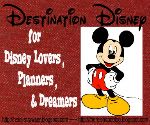 Before we get started with this week's theme, I have an announcement to make . . .
We're going to Disney!
(again!)
Yep, we just made reservations for early 2012 – can't wait! OK, enough with the commercial, now on to the matter at hand. . .
As we move through the alphabet on our Destination Disney journey, we're ready for the Letter H this week.
H
Use the Letter H as your inspiration. Some starter ideas --- the Haunted Mansion, Hollywood Studios, Hidden Mickeys, Hoop Dee Doo Musical Revue (which we're hoping to do for the first time on this next trip!) – and the list goes on and on and on . . .
So go, get busy! Post those Letter H things on your blog (with pictures, if you can) – then come back here and link up! I'll link up my post too! get the InLinkz code
FYI: Check out our past weeks' letters: